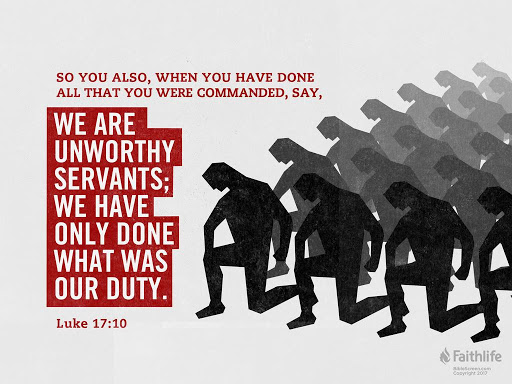 Tuesday, Thirty Second Week in Ordinary Time
Memorial of St. Leo the Great, Pope and Doctor
---
Tit 2:1-8,11-14; Ps 37:3-4,18,23,27,29; Lk 17:7-10
---
BEING FAITHFUL SERVANTS EXPECTING NOTHING IN RETURN
In the first part of Luke's parable (17:7) the disciples are placed in the role of the master. Jesus questions by asking, "Will any of you who has a servant…". None would expect that their master would ask a servant to sit at table and serve him.
The servant would be expected, when he returned from the field, to serve his master and get the meal ready. The servant will not be thanked, as he has simply done what was required of him. In the latter part of the parable, the disciples are placed in the role of servants. They must realize that they will have to do all that is required of them and not expect any thanks in return. They have only done what was expected of them.
We must try to avoid self-justifying postures like the Pharisees who posed as defenders of God's word and yet did not fulfil the basic demands of their faith. Many of us may still wait to be thanked and praised for what we have done. If we see  ourselves as God's servants, we will realize that we have tasks to do, a vocation to live, a mission to fulfil, given to us by a loving God. If we are open to the work of the Holy Spirit in our lives, he causes our attitude to change and become more Christ-like. Let us pause for a moment today, and ask the Holy Spirit to help us become aware of God's goodness to us, so that we can share this experience with others as our response of gratitude to him.
The first reading reminds us that we should have no ambition except to do good. As children of God and disciples of his son, we are expected to go about doing good like Christ. We do things led by the Holy Spirit without expecting anything in return. If we strive to be faithful in our service without expectation, God will be bountiful in his generosity beyond imagination.
---
Responsorial Psalm: From the Lord comes the salvation of the just.
---
Copyright ©2020 ©Springs of Living Water