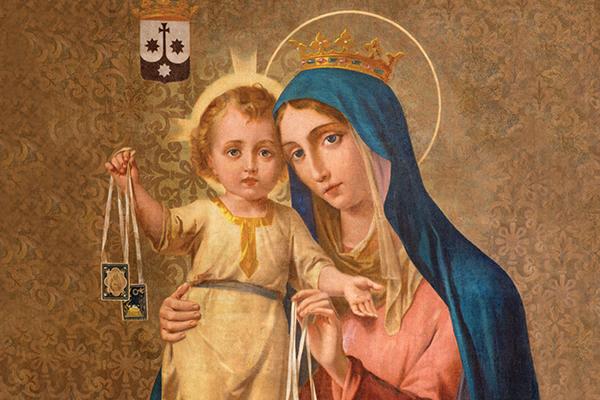 ---
FRIDAY, FIFTEENTH WEEK IN ORDINARY TIME
Memorial of Our Lady of Mount Carmel
Ex 11:10–12:14;        Ps 116:12-13,15-18;           Mt 12:1-8
---
JOURNEY TO THE DIVINE WITHIN US
The spiritual life is a journey from the instincts of human nature to the choices that reveal the divine within us. Today's readings provide us with two aspects that bring to the fore the difference between natural inclinations and the attitudes of faith. The first is the apparent contrast between the the first reading and the gospel. In the gospel, Jesus quotes God's words spoken through the prophet Hosea (6:6), "I desire mercy, not sacrifice." Yet, in the first reading, it seems God is demanding an animal sacrifice from the Israelites and is being anything but merciful to the Egyptians.
How do we react to this, and other 'contradictions' like this to God's loving nature, in the Scriptures? Simply put, what is our attitude to those times when we simply cannot understand God and his ways? Human nature would lead us to question God, to doubt his love, to be angry at his unjust ways. An attitude that stems from the divine within would be one of unwavering faith in God's love, and of distrust instead in our ability to understand his ways. In moments like these, that we do not understand, that, it is very difficult to understand, the true measure of our faith is seen.
The second difference is between the human tendency to first see the fault, and the divine inclination to see the good amidst the bad. The pharisees could not see the hunger and tiredness on the disciples' faces. All they could see was that a technicality of the sabbath law was being broken. Jesus, on the other hand, not only sees the blamelessness of the disciples but also the ignorance of the pharisees rather than their malice, and endeavours to lead them to understanding by using arguments. He gave them an opportunity to be enlightened. We are all also given that opportunity – to be enlightened to make choices that supersede our human instincts to reveal the divine within us. Do we recognize it, and make the most of it?
---
Response: The cup of salvation I will raise; I will call on the name of the Lord.
---
Copyright ©2021 ©Springs of Living Water  http://springs.carmelmedia.in