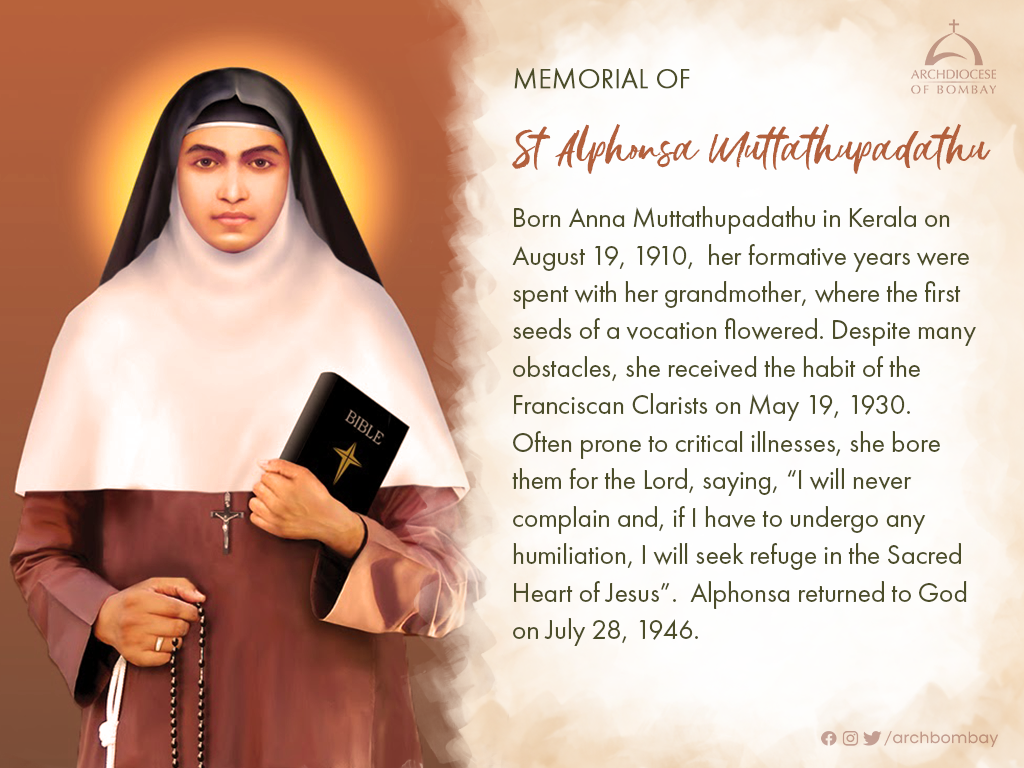 ---
WEDNESDAY, SEVENTEENTH WEEK IN ORDINARY TIME
Saint Alphonsa Muttathupadathu, Virgin
Ex 34:29-35;              Ps 99:5-7,9;                Mt 13:44-46 or Mt 25:1-13
---
DISCOVERING GOD'S PRESENCE
Today's readings call us to discover the Kingdom of God. In the first reading from the book of Exodus, we have Moses who lived amid earthly treasures in Egypt until he discovered his true calling and his real worth on Mount Sinai in the presence of God. From the moment of his personal encounter with Yahweh in the burning bush, Moses yearns to see God's glory. His face is brightened after his experience of Yahweh. Likewise, as we ponder on the parable of the hidden treasure, we must know that the one who discovers it is willing to give up everything to acquire the land and make the treasure his own. Similarly, only a true merchant would understand the real value of a fine pearl and acquire it at any cost.
In the case of Moses and the two parables we come to realize that one has to set out on the journey of discovery of the most valuable and enduring treasure that a man can enjoy – the kingdom of God. But as we begin this journey, three things are necessary. Firstly, we need to detach ourselves from the things that give us security. Secondly, we need to determined, ready for the sufferings and difficulties that will come along the way. Thirdly, we need to keep reminding ourselves how precious is the heavenly treasure we seek and be willing to pay the price for it.
Today we commemorate St Alphonsa, who serves as a great example of how one needs to be ready to pay any price that is required to attain the kingdom of God. She suffered throughout her life but knew that her call to serve as a religious was far more valuable than any other thing that the world could offer, and so she persevered throughout her journey of discovery. We need to ask ourselves; is the kingdom of God the hidden treasure that I am seeking? Have I begun my journey to discover its presence and power? Am I ready to give up everything to in my endeavour to be part of it?
---
Response: You are holy, O Lord our God.
---
Copyright ©2021 ©Springs of Living Water  http://springs.carmelmedia.in