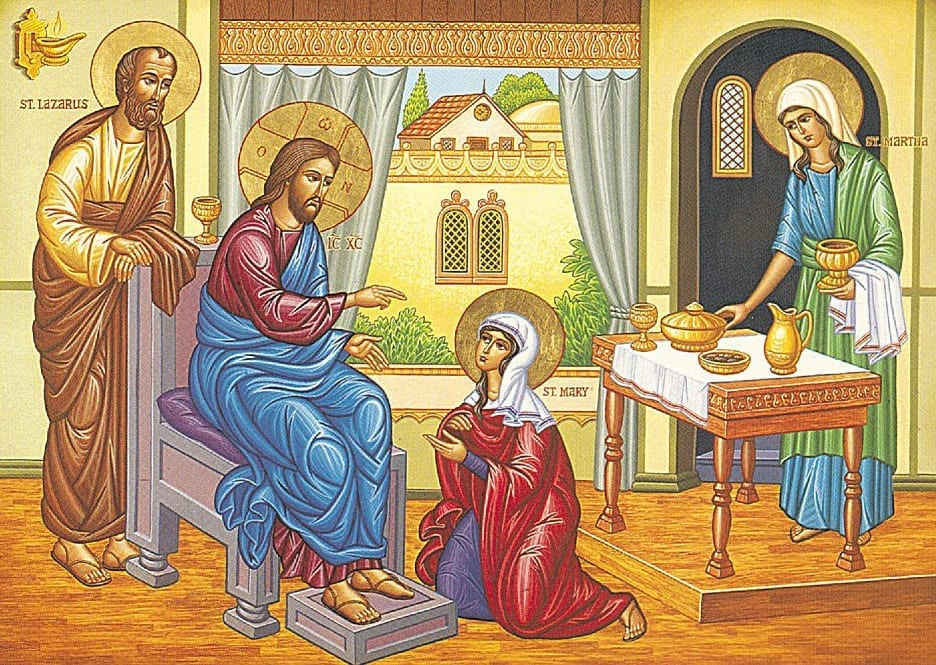 ---
THURSDAY, SEVENTEENTH WEEK IN ORDINARY TIME
Memorial of Saints Martha, Mary and Lazarus
Ex 40:16-21,34-38;          Ps 84:3-6,8,11;                Jn 11:19-27 or Lk 10:38-42
---
A FAMILY THAT WAS HOME TO JESUS
The Church adds to the Liturgical Calendar this year to the memorial of St Martha, her siblings Mary and Lazarus. In the household of Bethany the Lord Jesus experienced the family spirit and friendship of Martha, Mary and Lazarus, and for this reason the Gospel of John states that he loved them. Martha generously offered him hospitality, Mary listened attentively to his words and Lazarus promptly emerged from the tomb at the command of the One who humiliated death.
The liturgy invites us to renew our faith and hope in Jesus. The gospel reading from John focuses on the death of Lazarus, and its impact on his sisters, Martha and Mary. Jesus was not present when Lazarus died. When he received word of Lazarus' death, he went to the house. Martha went out to meet him while Mary stayed back in the house. When Martha saw Jesus, she immediately reproached him. She bluntly told him that if he had been there, Lazarus would not have died. She had hoped that Jesus would have healed him, and saved him.
John's gospel applauds Martha. She is the self-confident one, who trusts in God in the time of darkness. She is the one who speaks to Jesus without fear, without hesitation, saying what is in her heart. She comes out to seek the presence of Jesus while Mary stays at home; When Jesus asks her if she believes that he has power over death and life, she believes. Martha is ready to believe in the inexplicable, to hope in the impossible.
How can I let others know that I believe that God is with us on our life's journey? Have I ever said like Martha to Jesus: "I have come to know and believe that you are the Christ, the Son of God"? Perhaps today is a good opportunity to profess our faith once again in the Lord's life-giving presence, a profession that comes, not from something learnt, but from something truly experienced!
---
Response: How lovely is your dwelling place, O Lord of hosts.
---
Copyright ©2021 ©Springs of Living Water  http://springs.carmelmedia.in