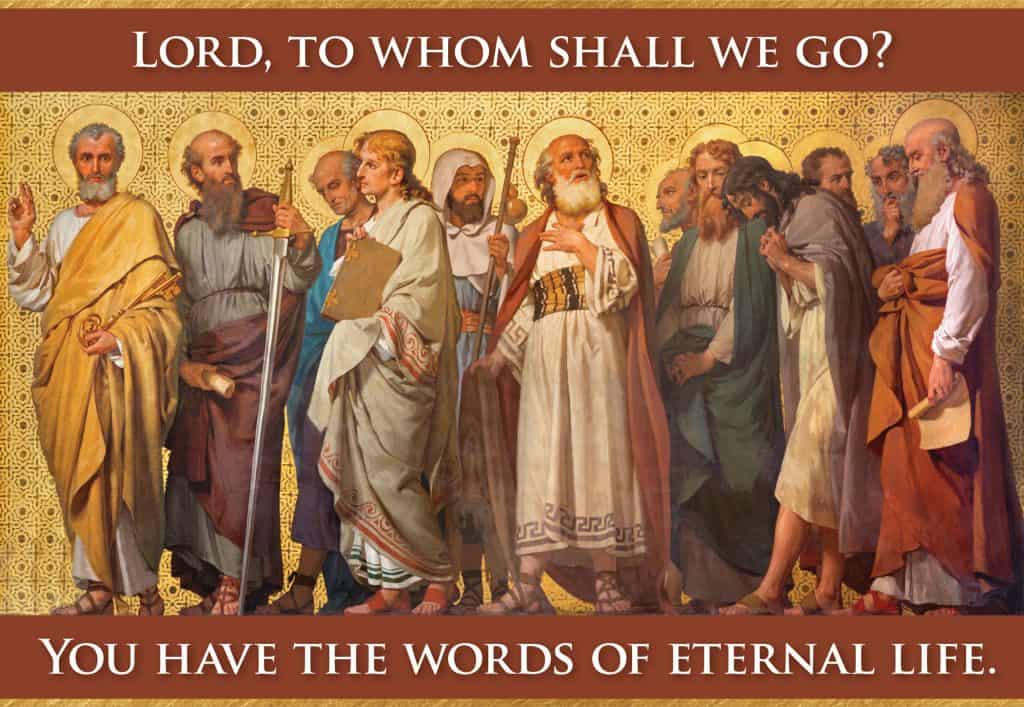 ---
SUNDAY, TWENTY FIRST WEEK IN ORDINARY TIME
Jos 24:1-2,15-18;       Ps 34:2-3,16-23;         Eph 5:21-32;        Jn 6:60-69
---
ARISE AND BUILD HIS KINGDOM
The people of Israel have come to the end of their exodus from Egypt and were about to begin their new life in the Promised Land. During their journey, God had entered into a covenant with them, promising to be their God, and they promised to be his people. God proved his faithfulness time and again throughout the journey, while the people were often unfaithful, being drawn to religious beliefs and practices of the pagan nations they encountered along the way.
Now, before they begin their life as a nation in a land gifted to them by God to be their heritage, Joshua asks them to choose again whether they want to follow the God of Israel or not, and if so, to promise to be faithful, rejecting all temptation to adopt any pagan belief or practice of the other nations among them. Joshua, like any good leader, declares publicly his decision – "As for me and my house, we will serve the Lord." And the people, reminded of God's immense love for them manifested in the marvels he had worked, and inspired by their leader's public testimony, respond to Joshua – "We too will serve the Lord, for he is our God." Today's psalm goes hand in hand with the first reading. It invites God's people to praise him, to "taste and see" his goodness, to open their hearts to his love and then love him in return by being faithful to the covenant.
We are reminded here of the words of Jesus; "'Love the Lord your God with all your heart and with all your soul and with all your mind.' This is the first and greatest commandment. And the second is like it: 'Love your neighbour as yourself.'" The love of God leads us to the love of neighbour. When we love God, we are compelled from within to love our neighbour. The love of neighbour begins at home – the love within the family, and most importantly, the bond of love between husband and wife. In the book of Genesis, we read, "Therefore, a man shall leave his father and his mother and hold fast to his wife and they shall become one flesh." The relationship between husband and wife is the foundation of the family and gradually leads us to grow in the love for all people.
In the second reading, from the letter of St Paul to the Ephesians, some guidelines are given to husbands and wives to strengthen their bond of love and enrich their family life. This is nothing short of an exhortation to grow in the love of neighbour. In this way, one grows in his love for God as well and becomes a spiritual person. A spiritual person knows that we are all one, children of the same Father God, and he consciously attempts to honour this unity, as he journeys towards the 'promised land' of eternal life. In this journey, there will be sufferings and difficulties, to test and strengthen our faith, our hope and above all, our love, like gold that reveals its beauty in all its fulness only after it is purified in the flames. Let us remember, that to achieve a greater good, we must be ready to deny ourselves of lesser goods, renounce them and make sacrifices.
The readings today invite us to make a decision for or against God. In the gospel, Jesus challenges the listeners to make a decision. Many of the disciples leave Jesus today in the gospel. There were those who had been following him up until now but were finding it hard to accept the claims he was making, identifying himself with the eternal God and using this strange language about eating his flesh and drinking his blood so that they could live in him and he could live in them. The believers led by Peter continued to remain with Jesus. The very words of Peter show their trust and confidence in Jesus, "Lord, to whom can we go? You have the words of eternal life. We have come to believe and know that you are the Holy One of God." Peter representing the community of disciples also expresses his faith on behalf all the future followers of Jesus. The choice of falling away from faith or taking the same stance as Peter faces the Christian community in every period of history, and it's a choice that's just as acute for us, now, as it was for the converts in the Church's first generation. What is your decision? Is it for or against God?
---
Response: Taste and See that the Lord is God.
---
Copyright ©2021 ©Springs of Living Water  http://springs.carmelmedia.in