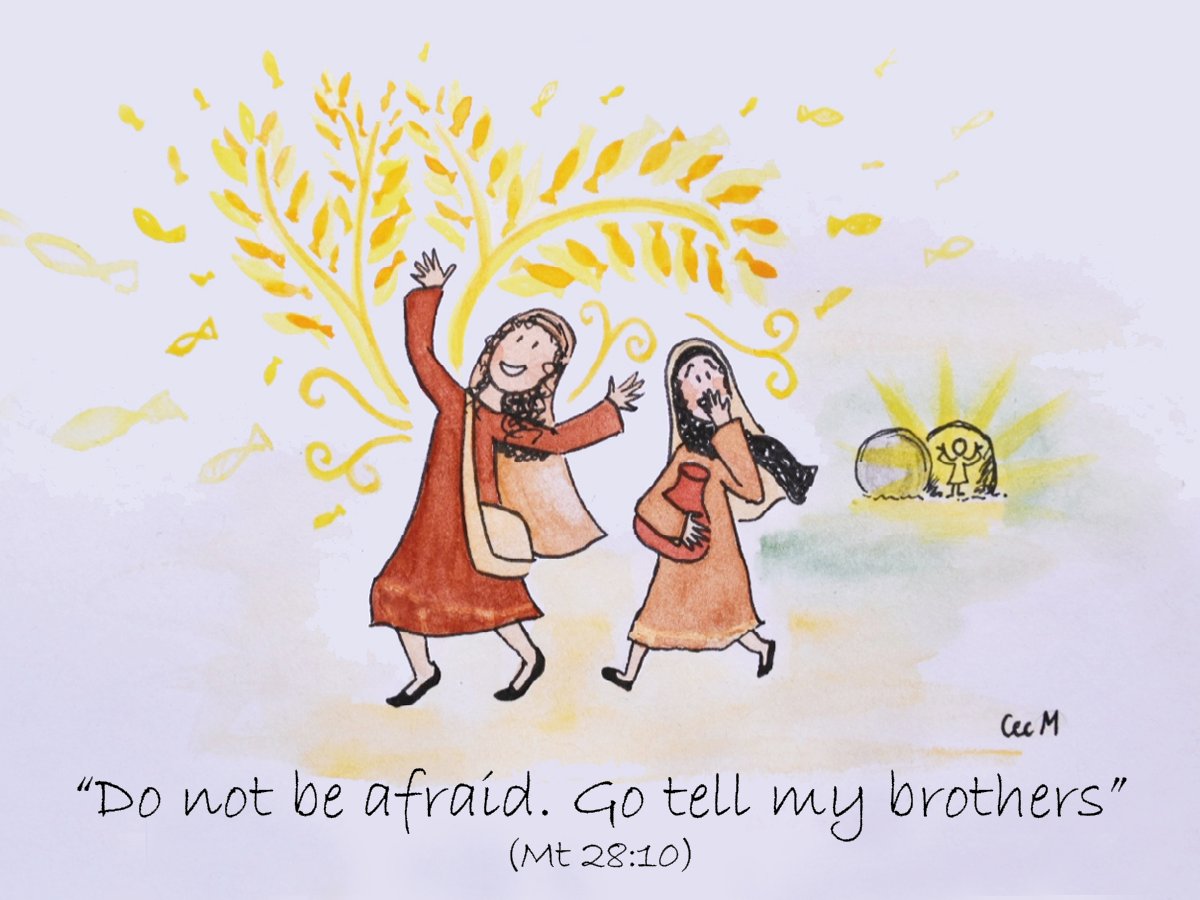 ---
MONDAY, EASTER OCTAVE
Acts 2: 14, 22-33;                   Ps 16: 1-2, 5, 7-11;                 Mt 28: 8-15
---
GO UP TO GALILEE
Galilee lies on the peripheries where Jesus had begun his preaching, after his baptism; now, after his resurrection, he wishes to return to Galilee from where the gospel of the resurrection will be carried to the whole world. Jesus tells the women: "Go and tell my brothers to go up to Galilee, there they will see me".
Jesus himself proclams that he has risen. This is the same proclamation that the Church has been repeating since the beginning: "Christ is risen indeed!" And in him, through Baptism, we too have risen. We have passed from death to life, from the slavery of sin to the freedom of love. This is the reason why Jesus calls the disciples to Galilee where they had first encountered him three years before and the good news he bore. This is the good news that we are called to announce to others and in every environment, animated by the Holy Spirit.
We announce the resurrection of Christ when his light illuminates and transforms the dark areas of our existence; when we know how to smile with those who smile and cry with those who cry; when we walk with those who are sad and are at risk of losing hope; when we transmit our experience of faith to those who are in search of meaning and happiness. But how shall we do it?
How shall we ensure that the joyful news of the resurrection manifests itself in us? By constantly returning to our Galilee, i.e., to a personal encounter with him in prayer, in a sincere meditation on the Scriptures and in meaningful and frequent participation in the sacraments. Because it is from an encounter with him alone that we can receive the good news and the joy it brings, as well as the strength and wisdom to carry it to those who need it most, in ways that are most fruitful. Let us therefore constantly 'go up to Galilee, for we will see him there."
---
Response: Preserve me, O God, for in you I take refuge.
---
Copyright ©2021 ©Springs of Living Water  http://springs.carmelmedia.in