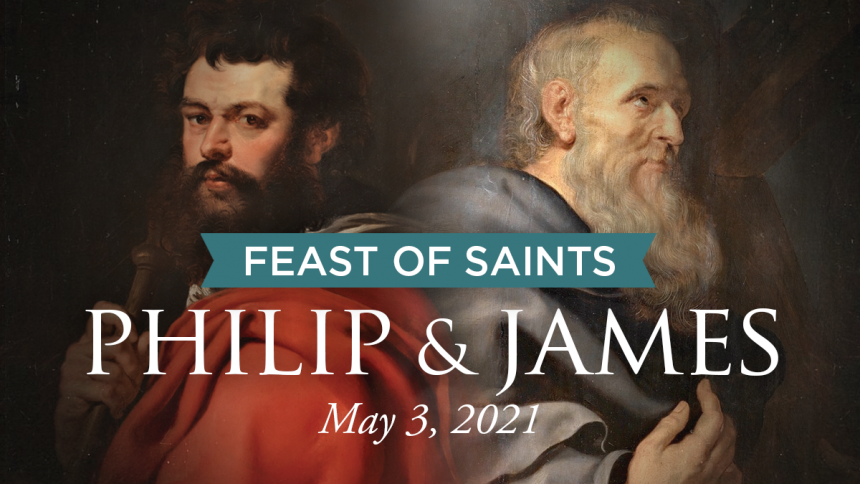 ---
TUESDAY, THIRD WEEK OF EASTER
Feast of Saints Philip and James, Apostles
1 Cor 15: 1-8;                        Ps 19: 2-5;                  Jn 14: 6-14
---
LET THE FATHER SHINE FORTH!
Today we celebrate the feast of two apostles – Philip and James. Philip was from Bethsaida, the home-town of Simon Peter and Andrew. It is rather surprising that he has a Greek name. It is probable he knew Greek, because, when some Greeks wanted to see Jesus, they approached Philip. According to tradition, he was martyred in Hierapolis in Turkey, and in 2011 his tomb was discovered there. Philip was martyred about 18 years after James, who was the first to have received the martyr's crown among the apostles. He was a vehement person, the head of the Church in Jerusalem, one of the few apostles who met St Paul after the latter's conversion.
The events described in today's Gospel passage, take place at the time of the Last Supper. Philip says to Jesus: "Show us the Father and we shall be satisfied." Jesus replies: "Philip, you have been with me so long, and yet you do not know me? To have seen me is to have seen the Father." Phillip here wasn't certainly listening! And then Jesus launches into what we hear in the rest of today's Gospel, in a bid to try to get Phillip, and us, to believe that the Father and Jesus are one. Poor Phillip! He was reasoning things out in a natural, tangible way, whereas Jesus was trying to communicate on a higher spiritual plane. Phillip perhaps had in mind, at least subconsciously, a majestic, ancient figure of the Father, flowing beard and all. But Jesus is describing a spiritual reality. A purely spiritual being, as God is, cannot be 'shown' just like that, he who does not even possess form or figure. The closest thing to the Father is Jesus. So what Jesus is really saying is, "Come and experience an intimate knowledge of the Father. See him and know him through his attributes, acts and words, and these you will find in me, in all perfection."
The mission of Jesus, the beloved son of the Father, was to reveal to Phillip, and to you and me, the face of the Father. His whole life and all his works and words were not only 'for' the Father but 'of' the Father. Even in the mundane elements of his daily life – eating, sleeping, working, praying, speaking – Christ remained united with his Father, both in his divinity and in his humanity, which he shares with you and me. Jesus shone forth the Father perfectly in all he did, said and lived. And this invisible world is more powerful and more real than any image or form we could create of the Father in our minds.
At times, we hear people saying, "If only I could see God just once….things would be different!" Well, Phillip 'saw' Jesus day in and day out and was still not satisfied; he still yearned to see the Father. We human beings are somehow never satisfied when our sensory stimuli are gratified. We soon want more and more. So then, today's Gospel is a reminder for us, that the things most useful to us may not be palpable, but are nonetheless there, sustaining us spiritually, in our relationship with God. Each one of us as Christians are called by our baptism into the mystical body of Christ, to shine forth the Father in our daily lives, with unveiled faces.
It is somewhat consoling for us to read about Phillip in today's Gospel. There must be times in our lives when we too have felt the same. Despite all the treasures that Jesus pours into us, we have that lingering feeling of dissatisfaction, doubt, unease… of desiring something more. And then we encounter the infinite patience of Jesus. He understands our ignorance, our slowness in understanding, and is ever ready to wait for us, repeating lessons already taught, again and again. He brings us once again, to count our blessings, which we already possess in abundance, opening our optimistic eyes to see things anew.
Saints Phillip and James took a long time like the other apostles to come to realize the truth about Christ in their personal lives, but once there, they surrendered their lives to the mission generously and courageously. We too need to know Jesus Christ, the Way to the Father, intimately and personally. Reading and pondering on his word in the gospels, the frequent reception of the sacraments, and faithfulness in spending some quiet time daily with him in prayer will surely help us get there.
---
Response: Their sound goes forth through all the earth
---
Copyright ©2022 ©Springs of Living Water  http://springs.carmelmedia.in