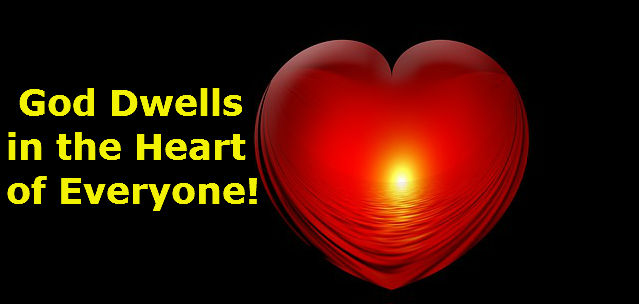 ---
MONDAY, FIFTH WEEK OF EASTER (St Simon Stock)
Acts 14: 5-18;                         Ps 115: 1-4, 15-16;                 Jn 14: 21-26
---
GOD DWELLS IN OUR HEART
Throughout our lives, we build many relationships of varying degrees with different people. Some of these relationships are intimate while others are superficial; some are long-lasting while others passing. Often, the quality of our relationships with others defines us. A genuine and complete experience of being human can only be derived from relating with others. And the guiding principle of any relationship is love, represented most commonly by a heart.
Today Jesus speaks of the heart being the place where God dwells. He tells the disciples that God dwells in the hearts of those who love him. For Jesus, loving God means living by his word. Anyone who loves God is privileged to receive divine revelation in the person of Jesus Christ. God loves us more than anything that we can ever imagine. The cross is the greatest sign of his love for us.
As part of the initial faith formation, parents normally teach their children that God lives in their heart and they too must love him through living a good life pleasing to God. If someone asked them to explain how that is possible they would nonetheless be confused and fail to explain their belief. Yet, the children certainly believe what they are taught, because they trust their parents' words.
Saint Elizabeth of the Trinity, a Carmelite saint, firmly believed that the Most Holy Trinity lives in our heart, and, like a spiritual parent, teaches us the doctrine of the 'indwelling of the Trinity'. Even though we find it hard to explain, we must believe it. God's presence within us is real; there is no denying this fact. Our relationship with him too, is real, like any other relationship we nurture. God desires that we build an intimate and deep relationship with him. Such a relationship liberates us from all our frailties and fears, making us more loving, understanding and charitable towards others.
---
Response: Not to us, O Lord, but to your name give the glory.
---
Copyright ©2022 ©Springs of Living Water  http://springs.carmelmedia.in