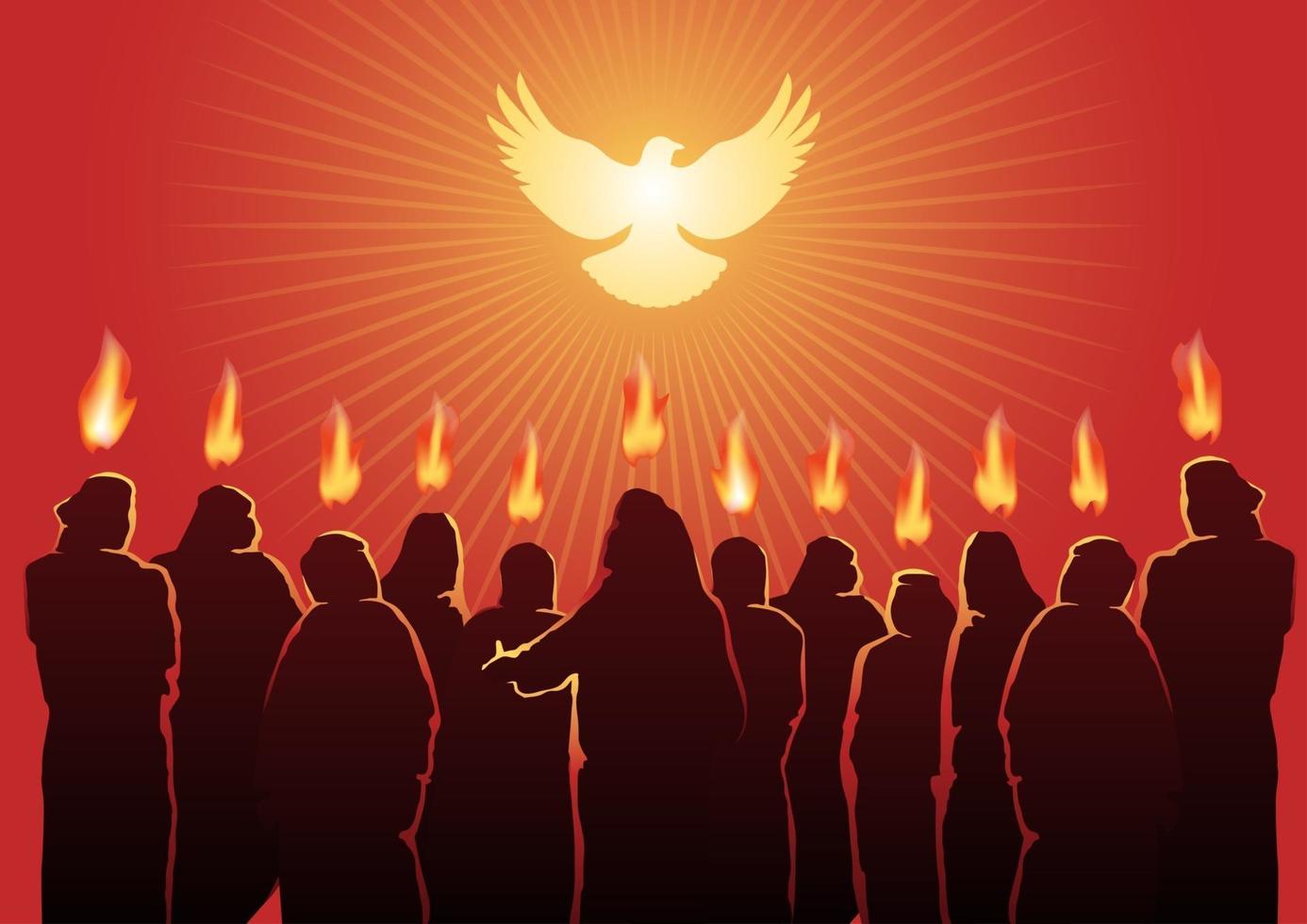 ---
SUNDAY, SOLEMNITY OF THE PENTECOST
Acts 2:1-11;        Ps 104:1,24,29-31,34;        Rom 8:8-17;     Jn14:15-16,23-26
---
PEACE AND POWER IN THE HOLY SPIRIT
The day of Pentecost is celebrated as one of the greatest feasts in the Holy Catholic Church. This magnanimous event marks the beginning of an empowerment to those who love Christ. For, on this day, God provided the Church with the Holy Spirit, who would help execute the key evangelistic mission of our faith.
In Mt 28:16-20, we see the Great Commission taking place. On the mountain in Galilee, Jesus instructs his disciples to 'go and make disciples of all nations, baptizing them in the name of the Father and of the Son and of the Holy Spirit.' Jesus ends this with, '…and surely I am with you always, to the very end of the age." What a blessed assurance indeed!
Truly, Jesus fulfilled his promise by breathing on the disciples his very breath of life. Let us take note of the elements involved during this special occasion, that we too may understand deeply what Jesus wants to give us when he offers us his Holy Spirit.
Firstly, the disciples were gathered together. They were inside a locked room. They were afraid. Have you found yourself locked out of a conversation – perhaps on account of being in a minority? Or, locked in a situation – like a financial constraint, a difficult job or a tough life choice? Guess what! – Jesus can still come into your situation and touch your life. Examine your deepest fears today. What makes you worried and anxious? Is there a fear of tests, failure, letting someone down or being attacked, ridiculed and embarrassed? Know, that just like he did for the disciples, he will do for you; he will enter in through the locked doors and occupy that most intimate space in your heart to offer you security. In coming into that upper room, Jesus fulfils what he promised in Mt 18:20, when he said, "…For where two or three are gathered together in my name, there am I in the midst of them."
The next element is the sign of peace. Jesus overcame all human barriers, entered the private space of the apostles, and offered them his peace before entrusting them with his power. He said, Peace be with you. Peace and power are two seemingly contradictory terms. Somehow, people exercising power in this world do not seem to be at peace. Similarly, peaceful people are mostly viewed as powerless. And yet, here, Jesus is offering peace and power within moments of each other.
The third element involved is that of paying it forward. 'Just as the Father sent me, so I am sending you.' Jesus himself was the first to be commissioned, and he is similarly sending us. This is because he imitates the Father and allows us to do so too. He wants his disciples to share in his mission and also in his reward.
Next, Jesus gave out his spirit saying the words, Receive the Holy Spirit. His instruction was to receive it. He continued with words of further empowerment giving the disciples the power to forgive sins. Jesus is willing to give us his spirit today just as he did on the day of Pentecost. Are we willing to receive it? Let us examine our lives and correct its course, that we too may be worthy of the great commission.
Lastly Jesus gives the disciples authority. And as he did that day, he does also today. 'Whose sins you shall forgive, they are forgiven them; and whose sins you shall retain, they are retained.' Jesus allows us to forgive sins in his name, that we might experience true freedom.
Let us reflect and experience all the events of the day of Pentecost as if we were present in that locked upper room. Let us allow Jesus into the deepest, darkest and seemingly inaccessible areas of our lives. Let us praise him and gather in his name that he may offer us his peace and his power.
'The one who is not reborn in the Holy Spirit will be unable to see the kingdom of God.' – Saint John of the Cross  
---
Response: Lord, send forth your Spirit, and renew the face of the earth.
---
Copyright ©2022 ©Springs of Living Water  http://springs.carmelmedia.in