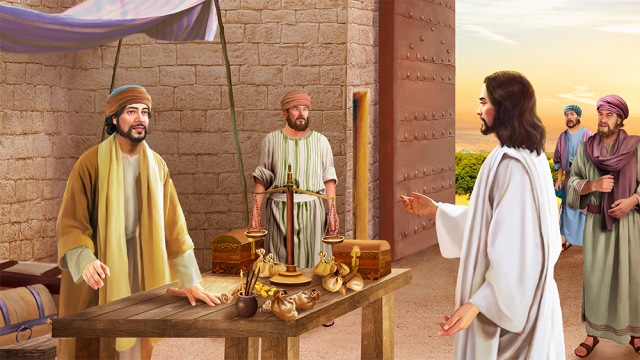 ---
SATURDAY, FIRST WEEK IN ORDINARY TIME
Memorial of Saint Devasahayam Pillai, Mr
Jas 1:2-4,12; Ps 34: 2-9; Mt 10: 28-33
(or) Heb 4: 12-16; Ps 19: 8-10, 15; Mk 2: 13-17 
---
PASSIONATE TO LIVE FOR THE KINGDOM
It is easy to make ourselves available for people who are blessed with position, wealth, beauty, reputation, power, influence etc. But it is difficult to be with and stand for the sick, weak, poor, powerless, unattractive and those without influence. In today's gospel, Jesus declares his priority. Unlike the teachers and leaders of his time, the focus of Jesus' mission is the people in need of his liberation, justification and salvation.
The first reading narrates the penetrating presence of the word of God into everyone born of flesh (Heb 4:12-13). There is no place where God is absent and there is no truth that is hidden from him. It is a joyful revelation that God knows our sincerity, commitment, capacities and truthfulness, even when we are not rightly understood by anyone in the world. Each one will be rewarded according to their own deeds (Rom 2:6-8). It is also very consoling to remember that God is well aware of our sinfulness, weakness, repentance, desire for conversion, intensity and number of temptations we face etc. Yes, no creature is hidden from his eyes. 'Thou hast set our iniquities before thee, our secret sins in the light of thy countenance' (Ps 90:8). But at the same time we have a high priest in heaven to intercede for us whom we can approach with hope (Heb 4:14-16) because his mission is to seek out the lost and protect the weak (Mk 2:17). He brings reconciliation between our humanity and God.
The inner call of Jesus was more powerful than any attraction of the world for Levi. It was a call that penetrated into his heart, and one he couldn't resist. His joy was such he prepared a banquet rejoicing in his vocation. He had also the courage to make a public declaration of his discipleship. The God who called Levi is also inviting you to be an integral part of his team. Are you also passionate to live for the sake of his Kingdom?
---
Response: From all my terrors, the Lord set me free.
---
Copyright ©2023 ©Springs of Living Water  http://springs.carmelmedia.in