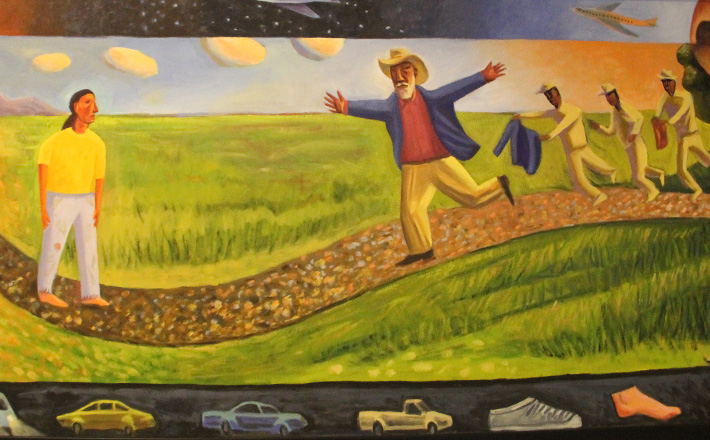 ---
SATURDAY, SECOND WEEK OF LENT
Mi 7: 14-15,18-20;                  Ps 103: 1-4,9-12;                     Lk 15: 1-3,11-32
---
LOVE BEGETS LOVE
We Catholics are called to love God and neighbour. The Catechism of the Catholic Church reveals that God loves humanity more than any mother loves her children, more than any bridegroom loves his bride, and more than any son loves his father. The fact is that God chooses to love us even though we are flawed, weak, frail, and imperfect. The prophet Jeremiah proclaims, "I have loved you with an everlasting love; therefore, I have continued my faithfulness to you. God's love is everlasting because God is love. God's very essence and being is love, as revealed throughout the whole span of salvation history: creation, the Exodus, the Incarnation, the Resurrection and eventually in the second coming of Jesus Christ. The Catechism States, God's very being is love. By sending His only Son and Spirit of love in the fullness of time, God has revealed an innermost secret: God is an eternal exchange of love and God has destined us to share in that exchange.
In the first reading, Micah extols the greatness and uniqueness of God for His unfailing love for His people. God's people left Him, they rebelled against Him, and they broke His law and sinned. But God showed his unfailing love because God is love and God is with his people, and he abides in them. We love because God first loved us. To love is divine because love first comes from God and He unites us to Christ and each other. Therefore "love begets love" according to pope Benedict the XVI in his first Papal Encyclical Deus Caritas Est.
This same message is also clearly present in today's Gospel: the parable of the Prodigal son. It doesn't matter how far we stray from our heavenly father, or how much we squander the gifts he provides, He is always there when we turn back to him. His unconditional love is waiting for us to return home where he greets us with open arms, every lost child (all of us) who is found (turn to God) is the cause for a great celebration.
---
Response: The Lord is compassionate and gracious.
---
Copyright ©2023 ©Springs of Living Water  http://springs.carmelmedia.in