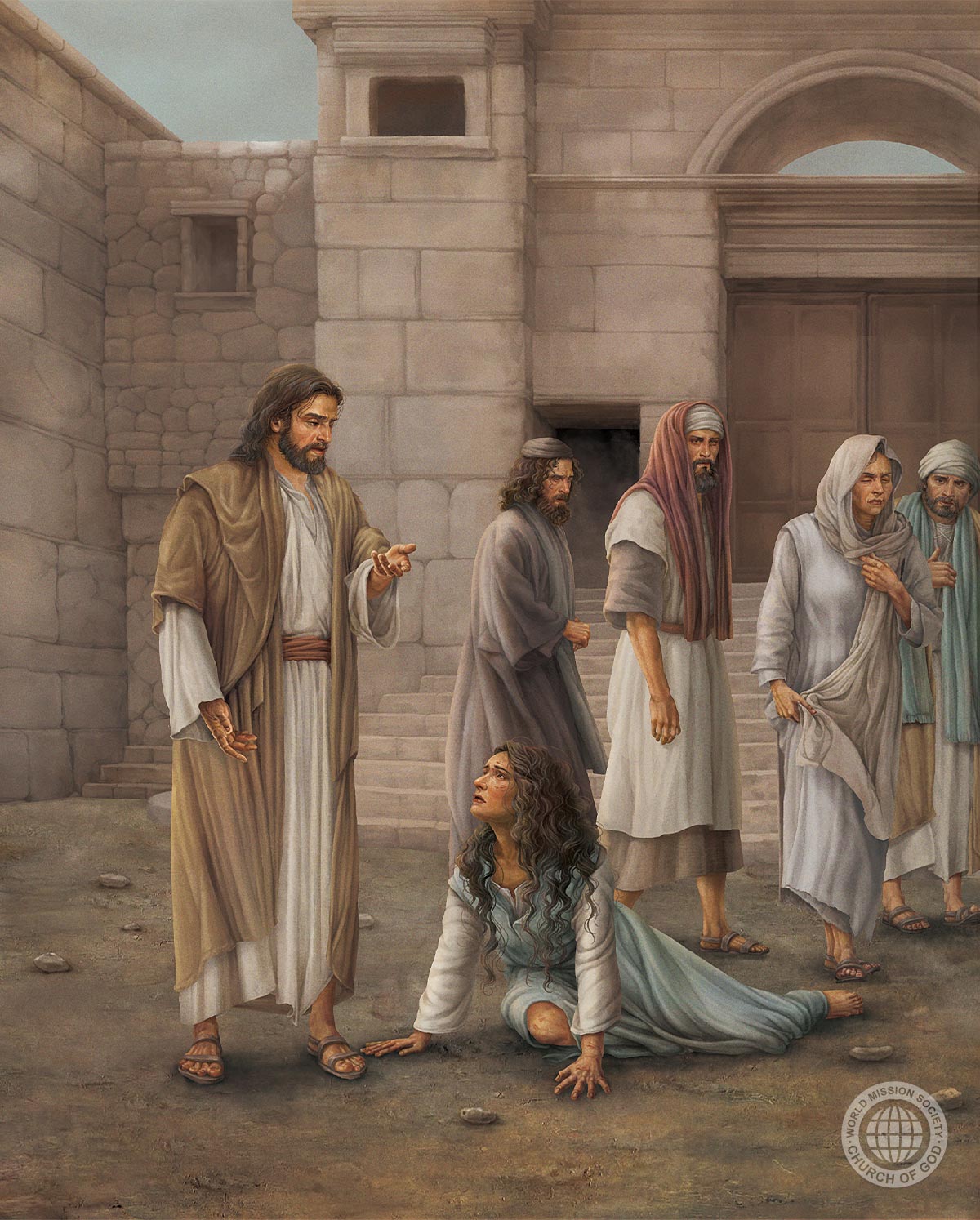 ---
MONDAY, FIFTH WEEK OF LENT
Dn 13: 1-9, 15-17, 19-30, 33-62;                   Ps 23: 1-6;                  Jn 8: 1-11
---
HAS NO ONE CONDEMNED YOU?
Jesus is in the midst of a teaching, when he is interrupted by the scribes and the Pharisees. They bring him a woman caught in adultery and make her stand before all of them. They go on to detail the crime while exhibiting the sinner. The Pharisees had brought the woman to test Jesus. It is not the law of Moses on their mind but an evil plot to destroy Jesus. What is clear is that for the scribes and the Pharisees, naming and shaming' was more important than mercy. For them, the law was to be followed slavishly. So, quoting the 'law of Moses' they state the punishment that the law demands for 'such a woman'; namely to be stoned. Then they ask Jesus for his opinion, "what do you say?" There is a sin in question and that cannot be ignored. Jesus sees both, the sinner and the sin and weighs in both justice and mercy. This was not the case for the Pharisees and scribes who wanted 'justice'.
Jesus confronts her accusers. Jesus, we are told now 'straightened up' to straighten them up! He simply throws the ball back in their court. If you yourself are without sin, go ahead and throw a stone at her. Jesus now was calling out their sin publicly, shaming them as they shamed her? His words were ringing in their ears. We are simply told that the Pharisees and scribes went away; where we do not know, but go they did, one by one…beginning with the elders.
This time Jesus straightened up again. He had one more person to straighten out; the woman. With her, his approach is so different. His mercy is now on display when he asks the woman where are her accusers, "has no one condemned you?" Interestingly the woman does not claim innocence, she knows her sin. She is standing now with the one person who can take away her sin and who has come to take away the sins of the world. "Neither do I condemn you" with these words, absolution is granted.
---
Response: Though I should walk in the valley of the shadow of death, no evil would I fear, for you are with me
---
Copyright ©2023 ©Springs of Living Water  http://springs.carmelmedia.in