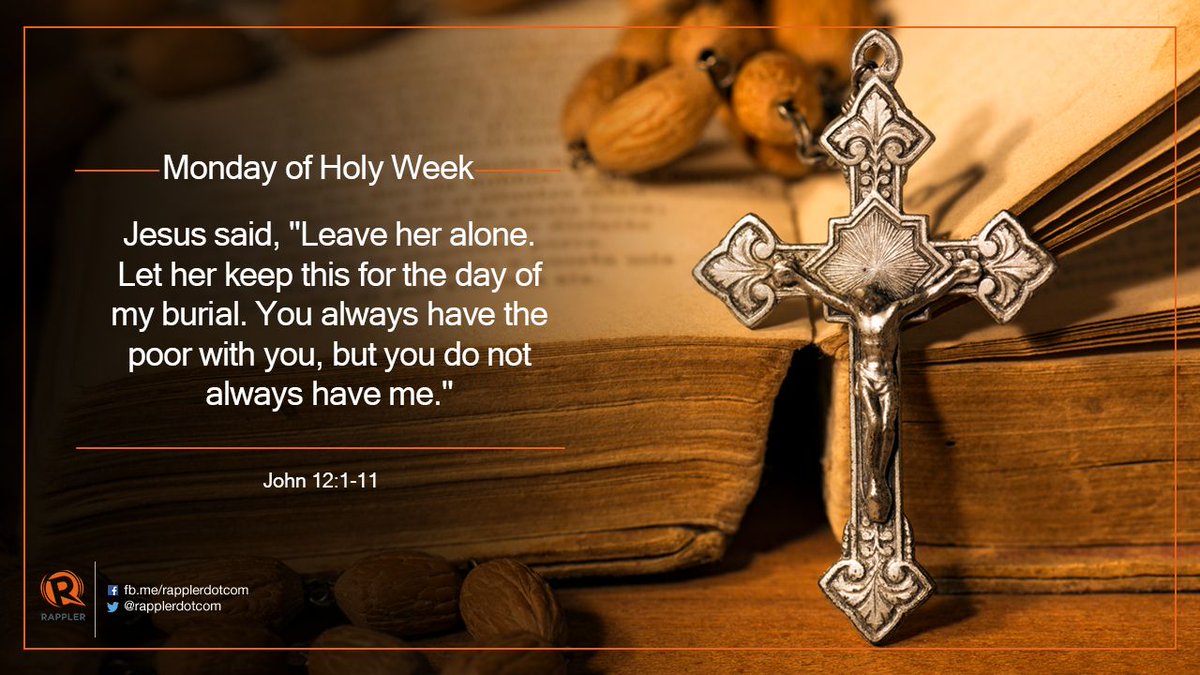 ---
MONDAY, HOLY WEEK
Is 42: 1-7;                   Ps 27: 1-3, 13-14;                   Jn 12: 1-11
---
PURIFYING OUR INTENTIONS
The Holy Week liturgy invites us to embrace Jesus as our saviour and to empty ourselves at the feet of the Lord. Today, Jesus is at the centre and around Him we see Lazarus who is raised from the dead, Martha who is serving food, Mary who anoints the Lord's feet, Judas Iscariot who appears to have concern for the poor and a large crowd of the Jews.
Mary brought a pound of expensive ointment made from pure nard. There are two words which draw our attention; 'expensive and pure'. The word expensive indicates that everyone is not able to have that ointment but only a few. The word pure indicates not defiled. Through the character of Mary, we are invited to make our lives rich in mercy and pure in heart so that we may become worthy like Mary to sit at the feet of Jesus and offer our lives pleasing to Him.
Judas is initially presented as a pious man, concerned about the needy and the poor, but the evangelist clarifies his real character, as a thief who would steal from the common fund. At times, during the Lenten season and in particular, during Holy Week, we too may appear to be pious and good but within us, there are our sinfulness and weaknesses.
The crowd of Jews seeks Jesus with curiosity. They are curious to see Lazarus who is raised from the dead. They come to Jesus, not to experience His divinity but see a show. Their hearts are not converted and are not filled with love for the Lord, rather they are empty. In the Holy Week, the churches are filled with people, many for a show.
Let us introspect then, are we like Mary who offered her rich and pure heart to the Lord? Or, are we like Judas Iscariot just showing external religiosity? Or, am we like the large crowd want to know what's happening? Let us tear our hearts, repent and make ourselves worthy to sit at the feet of the Lord and prepare ourselves to celebrate this Holy Week and Easter.
---
Response: The Lord is my light and my salvation.
---
Copyright ©2023 ©Springs of Living Water  http://springs.carmelmedia.in