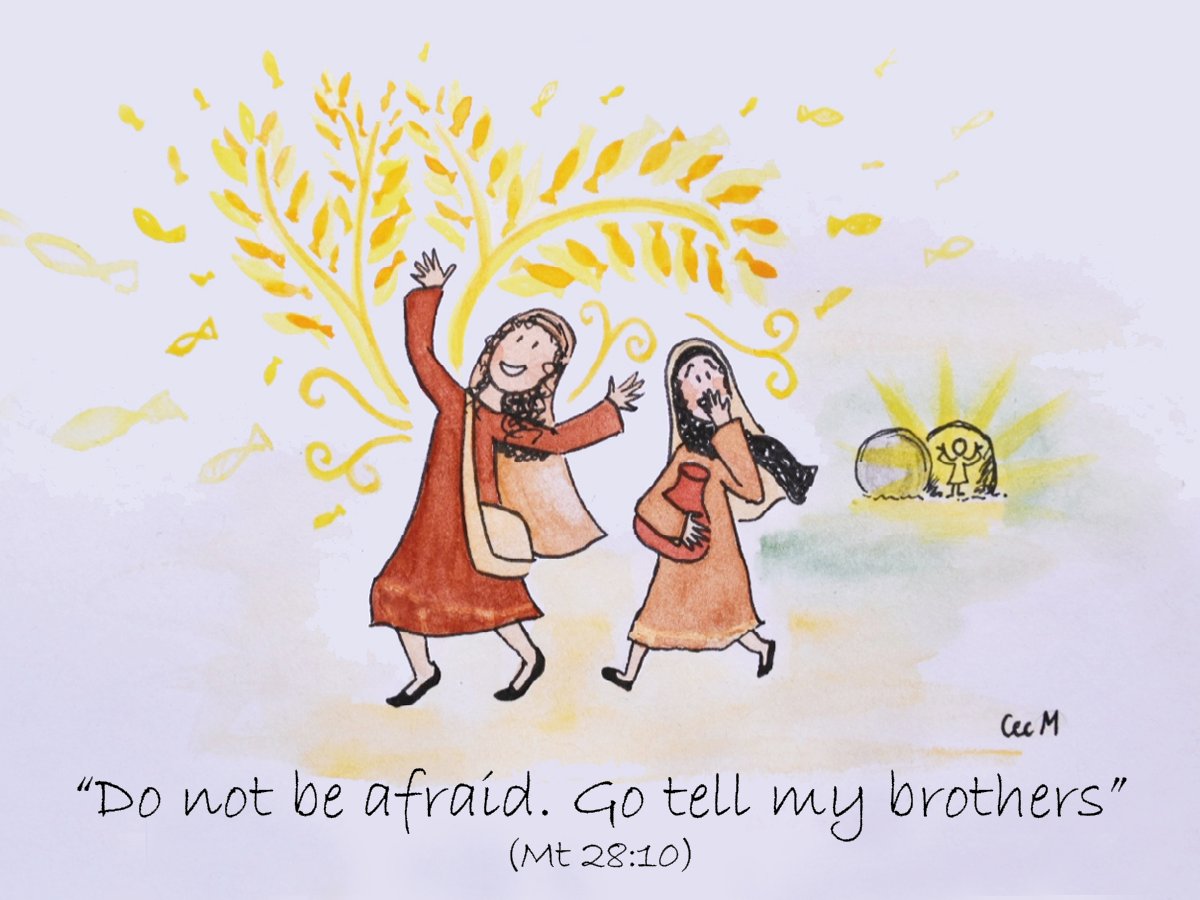 ---
MONDAY, EASTER OCTAVE
Acts 2: 14, 22-33;       Ps 16:1-2, 5, 7-11;     Mt 28: 8-15
---
BLESSED ARE THE HUMBLE 
Saint Thomas Aquinas famously said, "For those who believe, no proof is necessary; for those who don't believe, no proof is possible!" When seen in the light of Christ's Resurrection, the profundity of this quote would strike us hard. For a seeker of Truth, when the mind settles on the broad base of reality, the seeker of the Truth is enlightened. But if the search is fuelled by ulterior motives, the individual would never arrive at the objective Truth. This probably was the fault of the Jewish authorities in their perception of Jesus; they were prejudiced against Him; they were certain that He could in no way, be the Messiah foretold in the Scriptures. In today's reading, Saint Peter refutes this notion by laying out the biblical evidence for Jesus' fulfilment as the promised Messiah.
Another significant element that we can draw from today's readings is that God chose, not the learned people of Jerusalem but the illiterate, simple-minded individuals of Galilee. Peter addressed the wise men of Jerusalem, and rebuked them against their obstinate behaviour; the Gospel gives an affectionate calling to Jesus's disciples the simpletons of Galilee, that Jesus would meet them. The village folk are given an opportunity to witness the glory of the resurrected Christ, whereas the rich and learned folk are disregarded in God's sight. It indeed becomes a typology of the manifestation of Mary's words from her Magnificat: "He has brought down rulers from their thrones, but has lifted up the humble."
As we step into the first day of the Easter Octave, we are called upon to measure our faith and belief in the resurrection of Jesus. It is not a story. It is not fiction. It is neither a fairy tale nor fake news. But it is the reality of our firm faith, that Jesus came into this world and was crucified by his own people; His death has won our salvation, and his Resurrection has restored our life with God our Father.
---
Response: Preserve me, O God, for in you I take refuge.
---
Copyright ©2023 ©Springs of Living Water  http://springs.carmelmedia.in