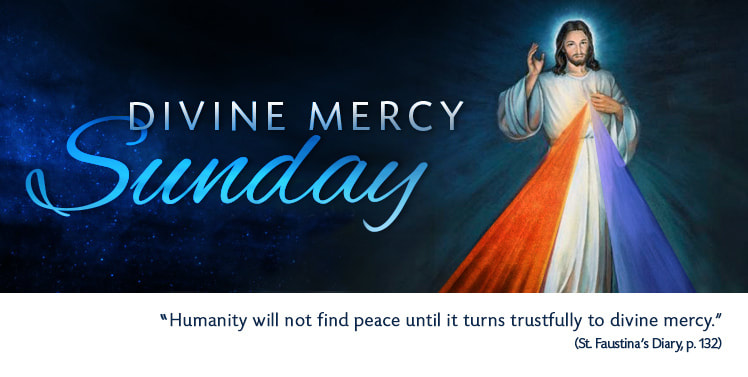 ---
SUNDAY, SECOND WEEK OF EASTER (DIVINE MERCY SUNDAY)
Acts 2: 42-47;             Ps 118:2-4,13-15,22-24;        1 Pt 1: 3-9;     Jn 20: 19-31
---
ENCOUNTERING GOD'S MERCIFUL LOVE
Today the mother church celebrates the feast of Divine Mercy. As Christians we know that God's Mercy is endless and His treasury of compassion is inexhaustible, that while we were still sinners, God sent His only Son our Lord Jesus Christ to redeem us from sin and death. With limitless love He carried the Cross and suffered a painful death for our sake. Thus, being merciful is one of the fundamental qualities of the Christian faith. It is easy to preach and do moral policing but very difficult to practice forgiveness. Our Saviour and Lord Jesus Christ while He was hanging on the cross not only forgave the executioners but even pleaded with excuses for them saying "Father forgive them for they know not what they are doing" (Lk 23:34). We just celebrated Easter last Sunday, commemorating His Glorious resurrection. Today, the second Sunday of Easter, also called the Divine Mercy Sunday invites us to focus on the amount of Mercy God has for each one of us.
The readings from the Acts of the Apostles show that the early Christians experienced the Mercy of Christ Jesus and lived happily with generosity and fraternal sharing. Their community life became the ideals and model for today's Christian families and religious life. For such communities, God Himself was adding new vocations and members in Faith. He was their cornerstone. This aspect of our Christian Faith is also described in Peter's epistle today. A simple definition of faith would be believing in something or loving someone even if we cannot see or sense them. Peter declares such a childlike faith as pleasing to God. Sometimes like Immanuel Kant, we may have to suspend our reason too in order to have a pure refined faith.
The apostle Saint Thomas represented us through his doubt and demanded a perceptible proof to believe in the resurrection of our Lord Jesus. After that, he firmly believed and ultimately became a Martyr for Christ. We too may doubt often but are we able to acknowledge our faith like St Thomas acknowledged and lived later on? The liturgy today points at our own faith journey in this world. In our personal journey of faith, we are bound to fail in our commitment and often falter in our ways, but we must be reassured of God's unfathomed kindness. The boundless Mercy from God is showered upon us at every moment of our life. This must help and lead us to a prompt surrender and repentance, which will give us strength to rise again for the journey ahead, renewed by the fire kindled by the Holy Spirit.
The blood and water are the physical manifestations of Christ's divine mercy and grace. His life shows much concretely God's unconditional love and mercy. Let this not be another passing devotion but a forever reminder of God's mercy and His inexhaustible amount of love he has for each one of us. Let us not belittle this great reality to which we are called to imitate. Saint Therese of the Child Jesus our own French Carmelite, offered her very life as a victim of God's merciful love. She lived with such great tenderness and love, which by itself exhibited as a sound testimony for what it means to live as a dedicated disciple of Jesus filled with Mercy and compassion.
We too can participate in His Salvific mission as efficacious witnesses. Today, as we celebrate the feast of the Divine Mercy, let us also strive to be an apostle of mercy and hope. The same Jesus who lived with the apostles lives with us now. We are always in His presence. He lives in us by essence and Grace. Do we still doubt? Do we still fail to experience His presence? In order to experience His Love and presence in us, let us first eliminate from us all sorts of barriers that are detrimental to our faith. These are the elements which we ourselves have constructed in our life journey. When we are free from such self-inflicted barriers, we could be men and women of faith, walking in the footsteps of our dear Lord and Saviour along with Him. Therefore, Let us celebrate today's feast by spreading the merciful love of Jesus to all the people we meet today and in the days to come.
---
Response: Give praise to the Lord, for he is good;
his mercy endures forever.
---
Copyright ©2023 ©Springs of Living Water  http://springs.carmelmedia.in