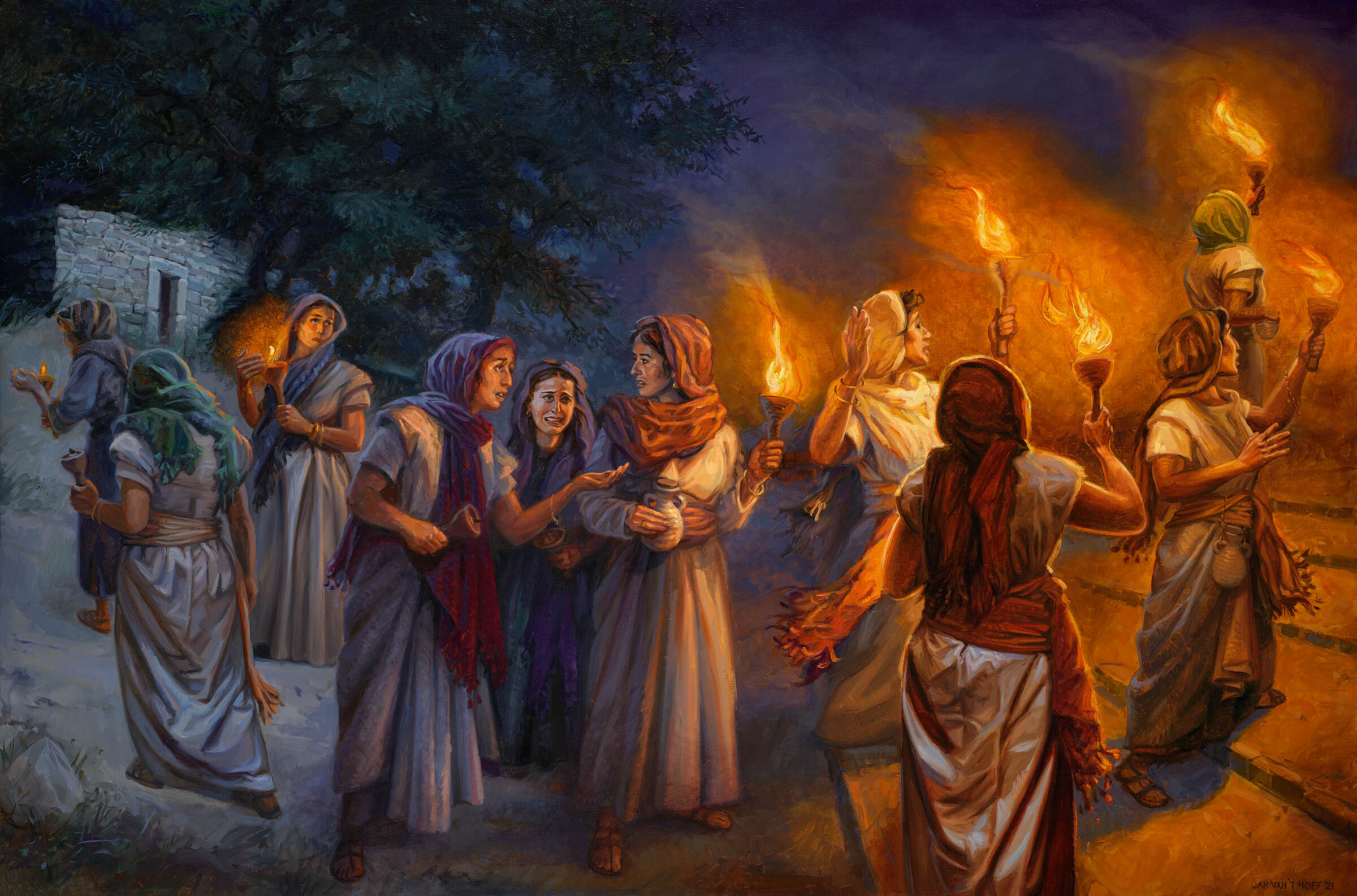 ---
FRIDAY, TWENTY FIRST WEEK IN ORDINARY TIME
1 Thes 4: 1-8;                         Ps 97: 1-2, 5-6, 10, 11-12;                 Mt 25: 1-13
---
THE FIVE READY VIRGINS
The Gospel of Today is the Parable of the Ten Virgins. It brings three important lessons for our Spiritual life
Be prudent: Five of the ten Virgins are named foolish because they took only the Lamps but did not carry oil. They lacked the prudence to realize that their lamps without oil were of no use whereas the other wise virgins carried oil in their lamps.
Be prepared: When the bridegroom came, only the wise virgins were prepared to welcome him, and the foolish virgins were unprepared. At the last moment, they dashed to the nearby merchant's shop to buy oil. Last-minute struggles are vain in the spiritual life.
Be punctual: By the time the foolish virgins who went to purchase oil arrived, it was already late and the door was already closed and their efforts to knock on the door turned out futile. They were denied entry to the celebration.
This parable of the ten virgins is meant to tell us that we do not know when the Lord's coming is, so we must stay vigilant, be Prudent, be prepared, and be punctual. Will we be prepared when the time has come? It also shows that not everyone will be allowed into the Kingdom of Heaven if we are not prudent enough. The five virgins who were prepared at the time of the bridegroom's arrival were welcomed into the wedding.
The five who were not ready in time were left behind the closed door and not allowed entry, even though they acquired the oil for their lamps later. It was too late for them means to say they were not punctual. This is why we must be ready at any hour! When the Lord comes, there will not be time to decide. We must use our time now to prepare for what is to come. Life throws so many unexpected things at us, but it is reassuring to know that the Lord will return and that we can prepare for his arrival by living our best lives as Christians.
---
Response: Rejoice in the Lord, you just.
---
Copyright ©2023 ©Springs of Living Water  http://springs.carmelmedia.in