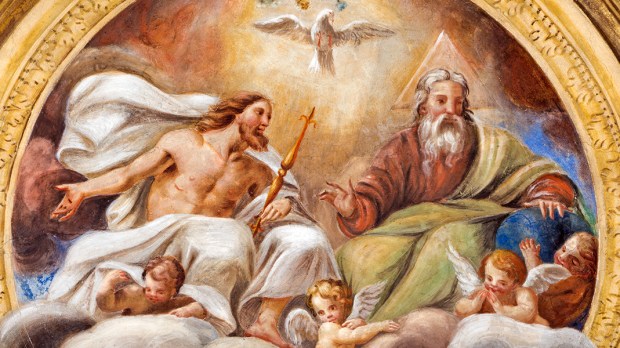 ---
SUNDAY, SOLEMNITY OF THE MOST HOLY TRINITY
Ex 34:4-6,8-9;            Dn 3:52-56;    2 Cor 13:11-13;         Jn 3:16-18
---
TRINITY: A MYSTERY TO ENCOUNTER
Last Sunday we celebrated the Feast of the Third person of the Trinity. Today we celebrate the Most Holy Trinity together. The Mother Church rejoices to and honours the Most Holy Persons: the Father, Son and Holy Spirit who are the Creator, Redeemer and Inspirer. Our faith is that God is somehow, mysteriously, "Trinitarian" or "triune" in nature. A mystery does not mean we should not understand. A mystery should not mean that he cannot be understood at all.
Saint Catherine of Siena once remarked that for the Christian to ask the question 'Where is God?' is like a fish to ask the question 'Where is water?' Today, as we celebrate the solemnity of the Most Holy Trinity, let us take an opportunity to think about who God truly is and what we understand him to be. Quite often the two do not exactly correspond: what God is truly like and what we think he is like are not always the same. On this Trinity Sunday, let us draw out three life-changing truths from our faith in God as Father, Son and Holy Spirit.
First, as Saint Catherine reminded us, we are inside the mystery of God, not outside. We may not think of it this way, but this changes everything because it means that we no longer have to look 'up there' or 'out there' for God as if He is a million miles away. Rather we are within the circle of His life, and God has opened it, to gather us into it. With the coming of Jesus into the world, God has opened himself up and inserted us into the space between the Father and the Son where the Spirit of love flows constantly.
Second, if we are made in the image and likeness of God then the more we become like God the more we become ourselves. God is revealed as 'a God of tenderness and compassion, slow to anger, rich in kindness and faithfulness'. It follows then that if this is God's true nature then it is our true nature as well. When we are tender, compassionate, patient, rich and kind, we become who we truly are and who we are called to be, our best.
Third, the Trinity is a mystery that we are to experience with our hearts not with our heads. It is not a puzzle or a riddle that we are expected to answer or solve. When we use the word 'mystery' to talk about and describe the Trinity, we are talking about a reality that is so endlessly rich and profound that it will never be exhausted. The more we contemplate and pray about the reality and presence of the Trinity in our lives, the more of itself will be revealed to us. Through the Trinity, God creates and loves us, Jesus liberates and saves us and the Spirit encourages and strengthens us. The Trinity is a community of love and life that we are invited to be part of and to share in.
When we look at the news on our televisions or read the newspapers any day, we are often presented with news of violence, segregation and building walls. There is the reality of individuals and indeed some countries speaking about and defending their rights at the expense of dialogue and cooperation with other nations. People of different religions in the same country often not only disagree with each other; they are actively fighting against each other. Sadly, there is division where they could be unity, there is aggression where there could be understanding, and there is suspicion where there could be trust and mutual respect. The Trinity offers us a model of sharing, belonging and community. It also challenges our individualism and our demand that our rights be met all the time. The Trinity asks to be mindful of our responsibilities to those around us in our families, our neighbourhood and our parish community.
In the Christian tradition, when we begin our prayers, whether as individuals or a community, we do so by making the sign of the cross and calling on the power and presence of the Trinity. When we pray glory be…, we do the same. We deliberately and consciously ask the Trinity to be part of prayer and our daily life. Perhaps on the Feast of the Trinity we could say these prayers slower and let their meaning become part of us in a more intimate and personal way.
---
Response: You are to be praised and highly exalted forever!
---
Copyright ©2023 ©Springs of Living Water  http://springs.carmelmedia.in